Quick Facts
| | |
| --- | --- |
| Estimated median house or condo value | $558,296 |
| Washington State's median home value | $387,600 |
| Population size | 60,020 |
| Homes currently for sale | 78 |
| Homes sold in the last year | 2,431 |
| Percentage of home growth (year-over-year average) | |
Meet your neighbors
The population of Marysville was 60,020 people at the 2010 census. The city is located 35 miles north of Seattle, adjacent to Everett on the north side of the Snohomish River. It is the second-largest city in Snohomish County after Everett, surpassing both Lynnwood and Edmonds. Growing at an annual rate of 2.5 percent, Marysville is the fastest growing city in Washington State. New housing and industrial areas are under construction and planned to fuel further population growth in Marysville. The median age in Marysville was 34.2 years at the time of the census.
Pictured above: Downtown Marysville seen from Interstate 5
Things you'll love
The City of Marysville operates and maintains 487.4 acres on 35 public recreational facilities within city limits, including parks, playgrounds, sports fields, nature preserves, community centers, a golf course and other facilities.
Marysville holds an annual strawberry festival in the third week of June, which is highlighted by a grand parade on State Avenue and a nighttime fireworks show. The first annual strawberry festival was held in 1932 to celebrate the city's strawberry growing industry. The week-long event attracts over 100,000 visitors and is the largest strawberry festival in Washington state.
Pictured above: Marysville's historic water tower, located in Comeford Park
Transportation
Marysville is located along the east side of Interstate 5 (I-5), which connects the city to Vancouver, British Columbia to the north and Seattle to the south. Marysville ranks eighth among Washington cities for longest commute times, with an average commute of approximately 30 minutes. The Washington State Department of Transportation (WSDOT) plans to build a shoulder running lane for peak period use on I-5, as well as a new interchange at State Route 529 south of downtown to alleviate congestion.
Public transportation in Marysville and Snohomish County is provided by Community Transit. The agency operates all-day local bus service in Marysville on four routes, connecting to Smokey Point, the Tulalip Indian Reservation, Lake Stevens, Everett and Lynnwood. Community Transit also operates five commuter express routes during peak hours from park and ride facilities in Marysville to the Boeing Everett Factory, Downtown Seattle and the University of Washington campus. The city plans to receive Swift Bus Rapid Transit service from Community Transit by 2028, and has been listed as a candidate for future Sounder commuter rail and Link light rail service.
Marysville is bisected by the Centennial Trail, a multi-use trail running along the eastern part of the city near State Route 9 between Snohomish and Arlington. The city also has plans to build a 30-mile network of trails, including the partially-completed Ebey Slough waterfront trail, under transmission lines in eastern Marysville, and in the Lakewood area.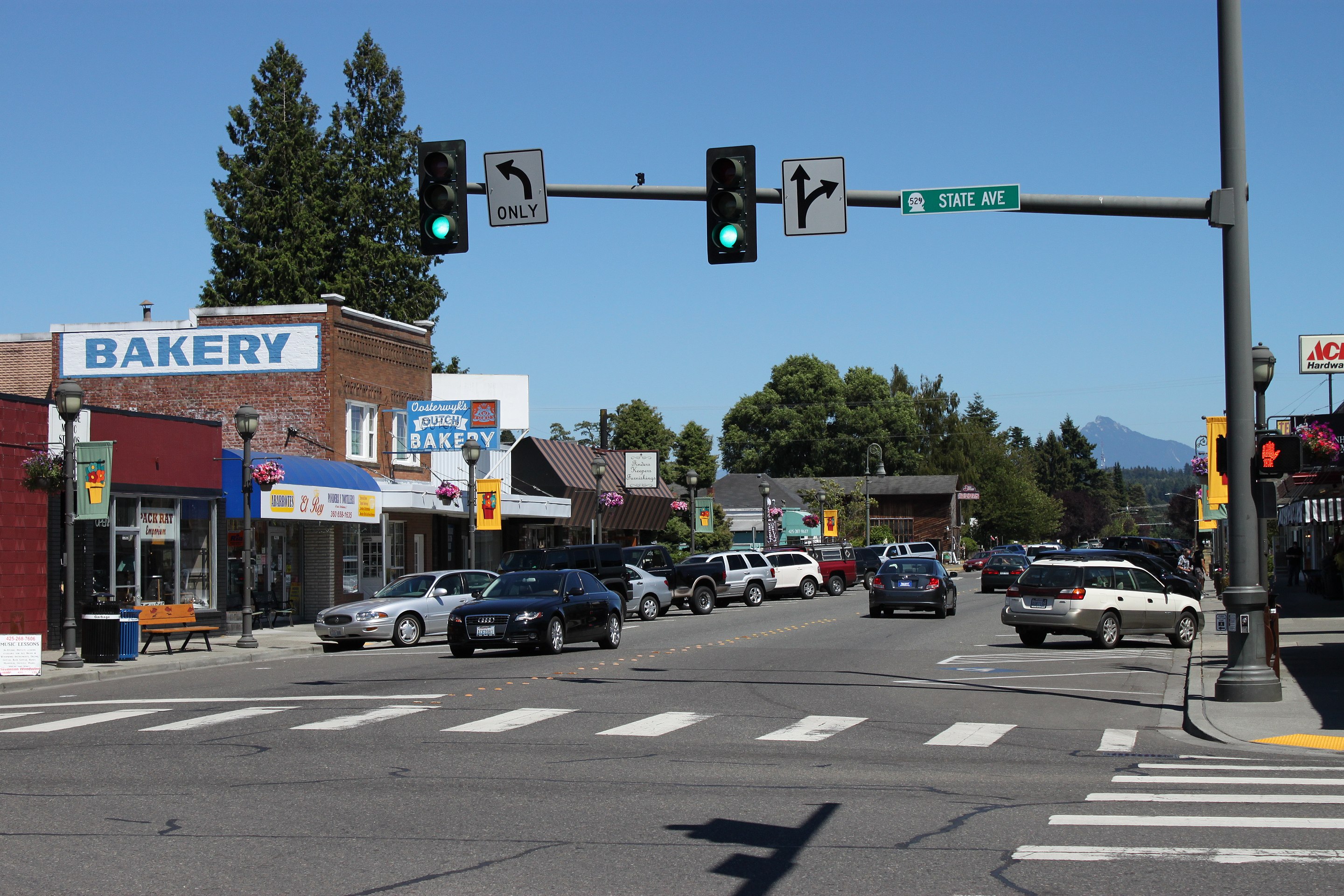 Pictured above: State Route 528 (4th Street) at a railroad crossing in Downtown Marysville, looking east towards State Avenue and Mount Pilchuck.
Schools
Public schools in Marysville are operated by the Marysville School District, which covers most of the incorporated city and the Tulalip Indian Reservation. The district had an enrollment of approximately 10,804 students in 2013 and has 23 total schools, including two high schools (Marysville Pilchuck and Marysville Getchell), four middle schools, eleven elementary schools, and several alternative learning facilities. The Marysville School District was ranked #15 of 258 as one of the most diverse school districts in Washington.
Other portions of the city are served by the Arlington School District, Lake Stevens School District, and Lakewood School District.[Marysville also has one private school, Grace Academy, which was established as a Christian school in 1977 and enrolls 330 students.
Marysville is located near the Everett Community College, the north county region's only post-secondary education institution, situated in north Everett. The college moved its cosmetology school to Marysville in 1996, offering classes and accreditation for students as well as public salon services.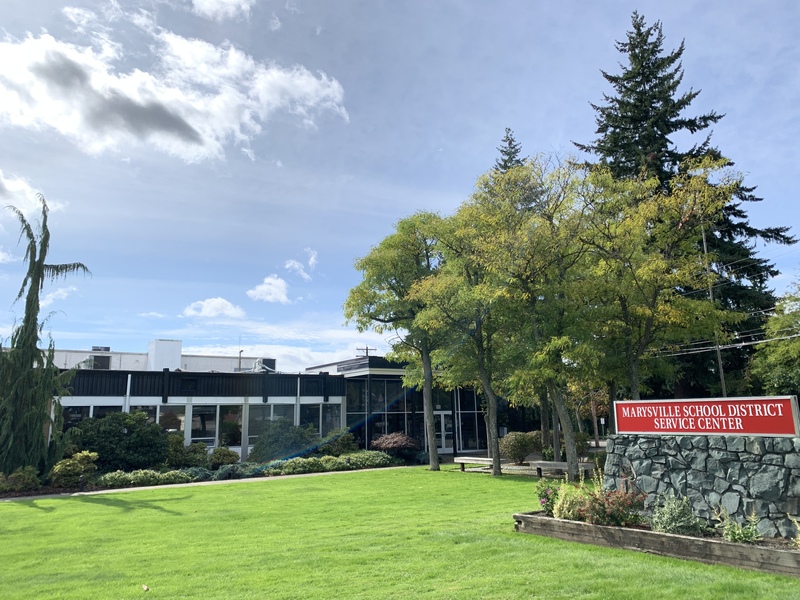 Pictured above: Marysville School District Service Center

The database information herein is provided from the Northwest Multiple Listing Service (NWMLS). NWMLS data may not be reproduced or redistributed and is only for people viewing this site. All information provided is deemed reliable but is not guaranteed and should be independently verified. All properties are subject to prior sale or withdrawal. © 2022 NWMLS. Updated: 29th November, 2022 5:13 PM (UTC)